Yoga retreat and massage workshop with Gentiane
Starts October 2, 2019
Ends October 11, 2019
Itinerary:
Day 1 – 2/10 18:50 Airport pickup Lombok – private driver + speedboat (2HRS) – arrival in Gili Air – dinner at Slow Villas
Day 2 – 3/10 – Free day, enjoy discovering the island
Day 3 – 4/10 – Day 1 retreat
Day 4 – 5/10 – Day 2 retreat
Day 5 – 6/10 – Day 3 retreat
Day 6 – 7/10 – Day 4 retreat
Day 7 – 8/10 – Day 5 retreat
Day 8 – 9/10 – Day 6 retreat
Day 9 – 10/10 – Free Day, enjoy your last day on the island
Day 10 – 11/10 – Airport transfer Gili Air – Lombok Airport – private driver + speedboat (2HRS)
Retreat coordinator: Gentiane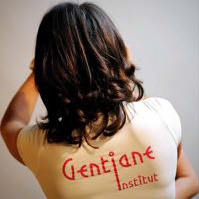 She is the founder of the renowned
Gentiane institute
in Brussels. Enter a haven of peace, where lush, hygiene and professionalism are combined into the wellness for your
treatments
. Enter a universe at
Slow Spa
, where you will enjoy the benefits of having her as your
personal coach
. You will experience both in your beauty treatments and in your relaxation exercises, a unique sense of well- being through the privilege of
personal attention
.
Posture analysis, daily therapeutical massage by Gentiane and therapeutical massage workshop by Gentiane.
 Yoga and meditation instructors:

Meet Pilu, our special guest teacher for your Yoga Retreat. She has been travelling for 10 years, she's an active person, practicing aerial circus, yoga, climbing, surfing, she loves the ocean. She completed her training in India and in Indonesia.
When a stranger offered her a flyer for aerial silk classes at 19, she decided to try it, and now, here she is today! It was after her first trip abroad to Uruguay that she knew she also wanted to continue traveling, and in Thailand where she fell in love with free diving and with Southeast Asia.
Pilu teaches:
JULIE
Julie travelled the world for over 6 years, as a scuba instructor to stop in the island of Gili Air , where she co- founded Slow private pool villas and spa, as well as Gili Travel Agency. If you want to travel Indonesia, Ask Julie! She designs tailor- made holidays in Indonesia with Love and Passion.
The Slow Retreats are her design. Julie is convinced that Gili Air is a place where you can recharge and slow down; she would like to share this feeling with you.
Julie teaches:
Yogalates

Ecstatic Dance

Zumba

Pilates

Acro Yoga

Meditation

Hoola Hoop

Poï

Scuba diving
Lodging: Slow Villas and Spa in Gili Air.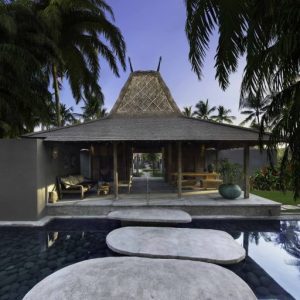 Tree Belgian friends, Christian Lechien, architect, Dominique Pissoort, advertising consultant, and Julie Thonnard, dive instructor, fell in love with Gili Air and decided to create a small holiday village. 10 contemporary luxury villas – balinese conception, Each room offers the same comfort: one or two bedroom villas with terrace, swimming pool, kitchenette and office space, comfortable sunbeds, lovely coconut garden. Particular care to the quality of the beddings, the home stylist Valérie Barkowski has added her touch of originality.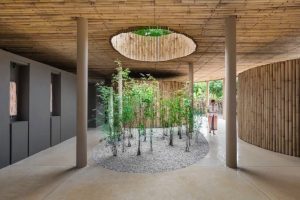 Designed by the architect Christian Lechien, the spa at Slow Villas adds a wellness appetite to the villa complex, which is essentially designed for you to recharge and fully relax: three massage rooms, a bath for relaxation and a pilates/yoga studio. The SlowSpa's architecture is inspired by the round curves of the island, making you think of a bamboo cathedral. The central window adds air and light to the whole ensemble with gentle curves. The peaceful feeling and the silence are supporting the architecture that's built around the natural elements, thus recalling Slow's philosophy. The treatments: massages, facials, treatments for hands and feet, and therapy through movements, respond to our belief at Slow in relation to wellness. For SlowSpa's signature treatments we use products that are natural and alive, especially fresh aloe vera cultivated on-site.
Click here to see our Spa menu
Healthy Menu: Pachamama organic café and Slow Villas home cook
W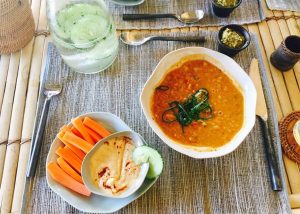 e are what we eat. Today a healthy diet is all too often forgotten. Our partner Pachamama Organic café will prepare for you a
healthy menu combination of fresh ingredients, organic, raw foods and juices. Combined with a fusion of Indonesian cuisine, to make you discover the flavours of Indonesia. Delicious and healthy! Plus, they will also prepare recipe menu cards, so you can bring the magic of their dishes home.
Video: Dive into Gentiane's Yoga and massage Detox Retreat
Price:
Yoga and massage retreat:
Early bird before 20th of June 2018: 2832 euros per person (double occupancy),single supplement 882 euros.
Regular price after 20th of June 2018: 3032 euros per person (double occupancy),single supplement 882 euros.
Whats Included:
– Return Lombok Airport transfer
– 9 nights at Slow Villas & Spa
– Morning detoxifying water, morning fresh juice, Healthy breakfasts by Slow Villas, Vegan lunch by Pachamama Organic Café, Healthy dinners on the beach and by Slow Villas, to add an Indonesian cuisine touch
– Daily massage with Gentiane and posture analysis
– Massage workshop with Gentiane
– Minimum 5 participants
– Gluten free, dairy free, vegan and vegetarian menu available on request
– Alcohol not included – We encourage you to give up coffee, alcohol, smoking during your Slow Retreat to detoxify your body
– Non mandatory afternoon activities will be optional in Gili (activities can also be booked on location)
– 2 Yoga & Meditation sessions per day
*Schedule might be susceptible to change
Activities on the island (some included, some not included):
– Fly high yoga at Sunset Beach Yoga in ocean view yoga shala
– Visit the island with a local (included)
– Zumba
– Slow spa full organic program: organic sugar/ginger scrub + organic aloe vera scrub + full body massage with aloe vera and fresh coconut oil from our organic garden
– Stand up paddle for sunrise
– Snorkelling & island hopping to Gili Meno, the next island
– Introduction to hoola hoop, poï, aerial silk, acro yoga and fire show on the beach
– Indonesian cooking class
– Morning sunrise run around the island with optional photo shooting
- Subwing
– Schedule might be susceptible to change
  Whats not included:
Slow Retreats doesn't book flights. You can book them yourself or with following travel agent in Brussels.
When booked, send us your flight ticket and we'll take care of the rest.
Flight Proposition by Gentiane's partner Belbur Travel:
Contact:  Juan.Rubio@belbur.com
| | |
| --- | --- |
| Proposition 1: Singapore Airlines | |
| | | | | | | |
| --- | --- | --- | --- | --- | --- | --- |
| Date | No de vol | Origine | Destination | Départ | Arrivée | Classe |
| Ma 01 Oct | SQ 2803 | Brussels | Milano Malpensa | 06:20 | 07:45 | Economy |
| Ma 01 Oct | SQ 355 | Milano Malpensa | Singapore Changi Intl. | 13:00 | 07:00 (Me 02 Oct) | Economy |
| Me 02 Oct | SQ 5218 | Singapore Changi Intl. | Praya Lombok Intl. | 08:00 | 10:35 | Economy |
| Ve 11 Oct | SQ 5217 | Praya Lombok Intl. | Singapore Changi Intl. | 11:20 | 13:50 | Economy |
| Sa 12 Oct | SQ 378 | Singapore Changi Intl. | Milano Malpensa | 23:30 | 06:10 (Di 13 Oct) | Economy |
| Di 13 Oct | SQ 2800 | Milano Malpensa | Brussels | 08:30 | 10:05 | Economy |
Tarif par personne – taxes d'aéroport et frais de réservation inclus: TBA
Emission du billet: le même jour calendrier que l'offre ci-dessus
Modification avant le départ: non autorisé
Annulation avant le départ: non autorisé
Remarque: les changements de noms et de routing ne sont pas permis
Looking forward to welcome you at Slow Villas and Spa for your detox week with Gentiane Institut, the week will be filled with healthy food and juices, sport, gili island discovery activities, laughter, yoga and meditation sessions.