Artist Exchange: Hula Hoop Magic
So far, the year of 2019 have been full of magic! Why? Simply because of CIRCUS. At Slow Retreats, we love Circus People – because who doesn't love to have fun? We get to meet so many inspiring and talented people, who want to create magic with us – and that's why we love ARTIST EXCHANGE!
Recently, we were lucky to have a wonderful time together with Kiera Blaney, a talented Hula Hoop artist from Brisbane. Magical moments were created, when Kiera joined us for a trip around the South Gilis on our Yoga Cruise, and when she volunteered at Soraya Foundation to give the kids of Gili Air & Lombok a fun, playful and inspiring time.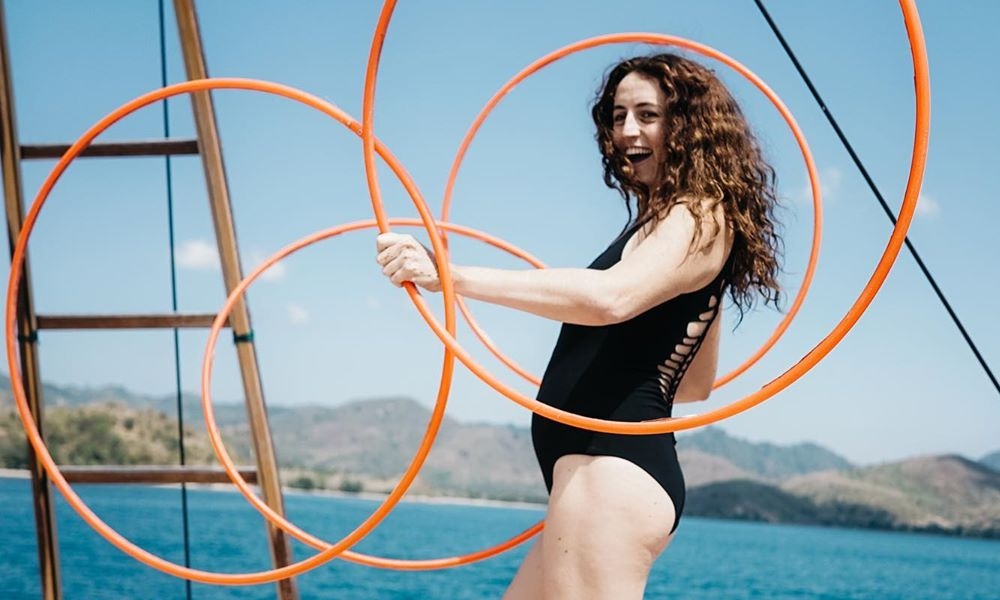 Kiera is such a passionate and kind soul, and her love for Hula Hooping shines through every time she gets the hoops in her hands. Gently sliding the hoops through fingers, hands and up & down her body – Kiera doesn't stop, and her hoops neither! With a huge smile on her face, she makes the hoops spin around, creates patterns and dances, while she makes many of us wonder, why we never Hula Hooped more often beforehand?
But why does Kiera love hooping? We asked Kiera about her passion, when she visited us in Gili Air!
When did your interest for Hula Hoop begin and what was the reason you started hooping?
I became interested in hula hooping 4 years ago, when I saw some girls hula hooping on the beach – laughing and smiling like they didn't have a care in the world! I immediately went over and asked them to teach me!
What is special to you about Hula Hoop? How does it make you feel?
Hula hooping isn't just about learning tricks and performing. When you hula hoop, you are completely in the moment. You drop into a movement meditation, where you are highly aware of your body and your mind it empty of thoughts. You can't be thinking while you hoop or the hoop will drop! Hooping makes me feel centered and gives me a unique way to express my feelings.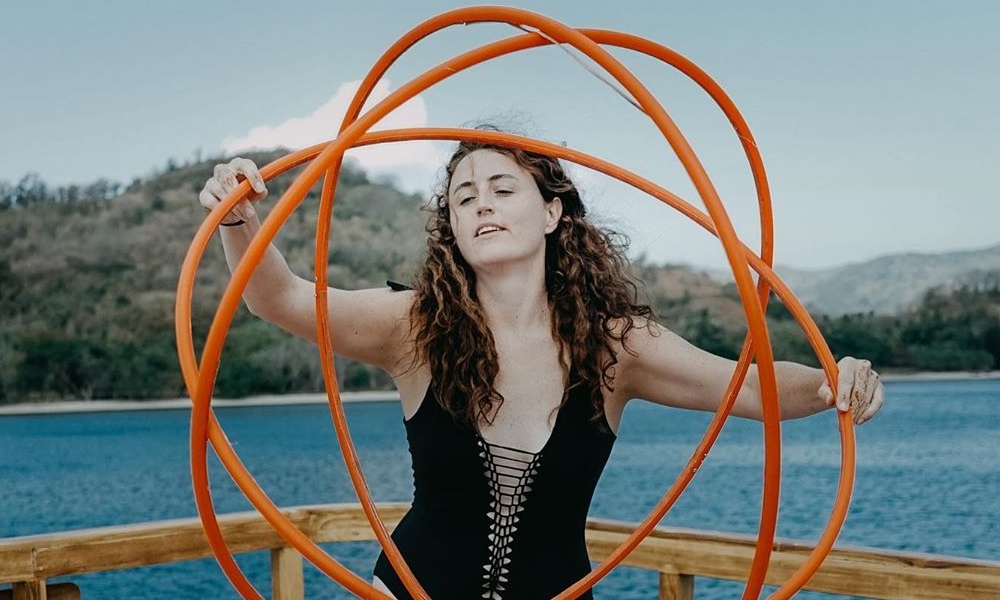 What can you create with Hula Hooping? What is your aim when doing shows and workshops?
Through hula hooping with adults I want to inspire others to play and connect with their inner child. To let go of judgement of themselves and just be silly and carefree like they were when they were 5 years old. During workshops students usually say "I can't do that trick" – and after encouraging them to try, they can do it! I try to encourage them to apply this in their entire life – everything you think you can't do, you can with just a little practice!
When teaching kids hula hooping, they already have the inner child alive and kicking. During the workshop, I try to encourage creativity without judgement and allow the children to express and gain confidence in front of their peers through circus.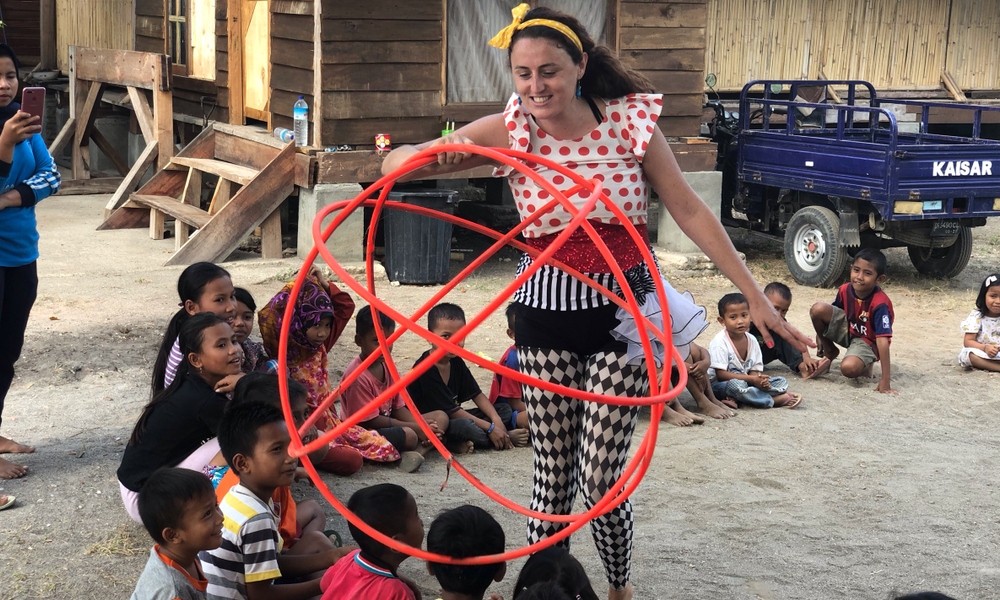 You recently visited your Gili Air for Hoop workshops with the local kids. How was Gili Air, and how was it working with the kids?
Gili air was such a beautiful little village and community. The children at the local school loved the circus workshop and especially creating big bubbles. I felt that the children got to express themselves and also laugh a lot, which is medicine.
What is special to you about working with kids? Especially local kids – what do you wish to create with your Hoops sessions for the kids of Gili Air?
When I work with kids, I want to create a safe space for them to explore their creativity and express themselves while also teaching them values through play. Through working with the kids at Gili Air, I would like to teach them about the environment and English through play.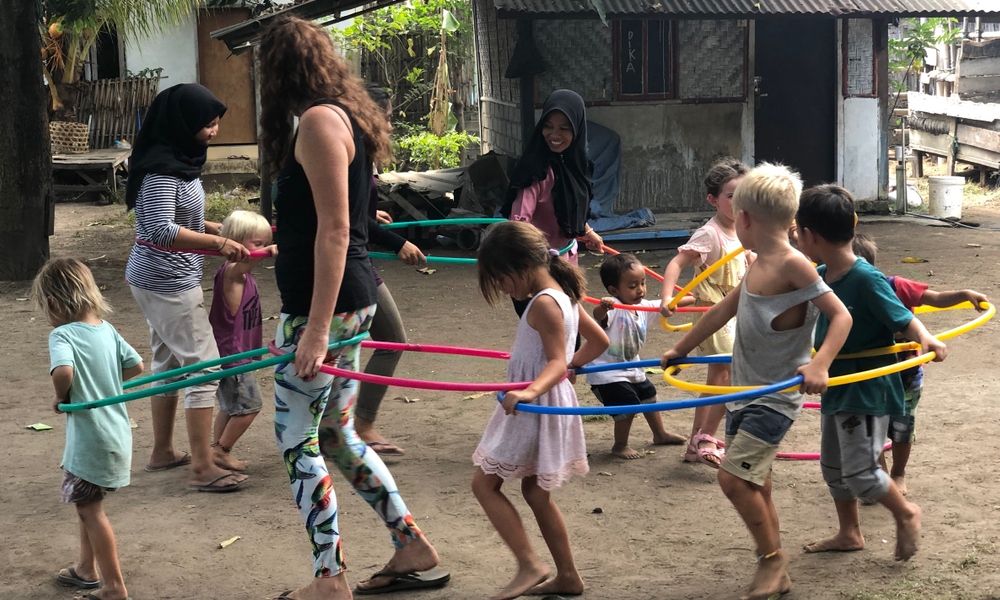 Please tell us a bit about your dreams for the future. What path do you wish to go down? What is your goals? Does it involve hooping?
For the future, I am dreaming of creating my own non for profit organization offering circus and play therapy to aboriginal communities in Australia. And to finish my degree in Chinese medicine.
Would you ever consider coming back to Gili Air? What would you like to do here – you have any ideas for the future?
I would love to come back to Gili Air, and I am planning my return to the beautiful island. I would love to see the kids again and teach them more.
For the future I would love to work with the children over a few days with a few others artists and have a theme for each day that we tie into the workshop.
Artist Exchange
Would you like to do as Kiera did? Join us in Gili Air for a magical Artist Exchange.
Apply here!