Interview with Pilu, Our Special Guest Teacher this March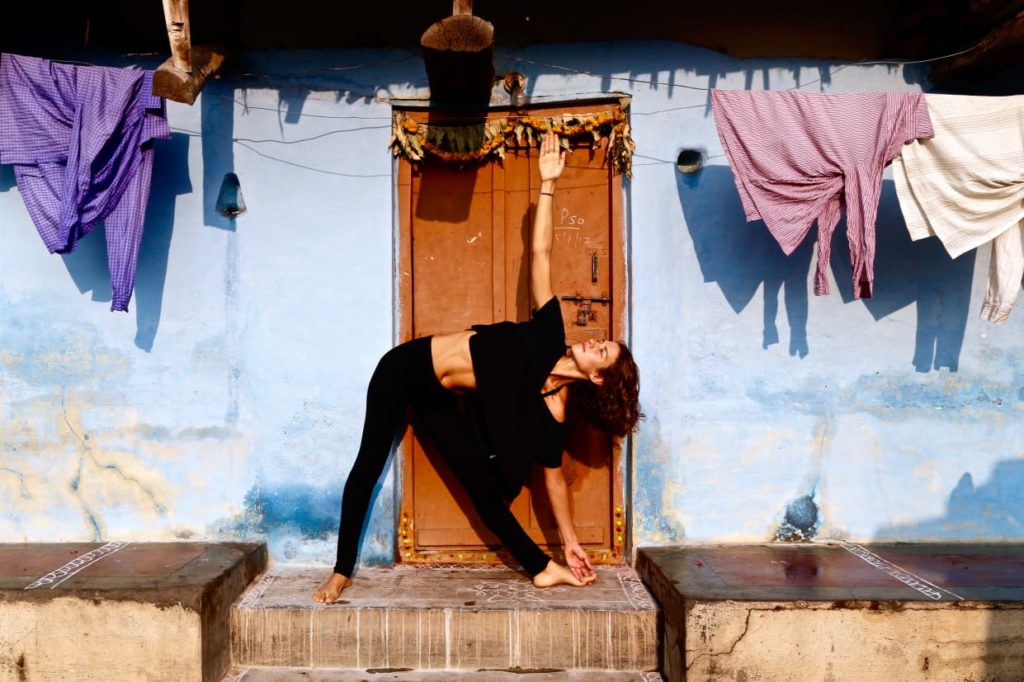 Meet Pilu, our special guest teacher for the Gentiane Yoga Retreat & Massage Workshop in March. She has been travelling for 10 years, she's an active person, practicing aerial circus, yoga, climbing, surfing, she loves the ocean. She completed her training in India and in Indonesia.
She is a motivated, adventurous, and inspiring woman from Argentina, involved in activities from circus and aerials, to acro, freediving, and various types of yoga.
When a stranger offered her a flyer for aerial silk classes at 19, she decided to try it, and now, here she is today! It was after her first trip abroad to Uruguay that she knew she also wanted to continue traveling, and in Thailand where she fell in love with freediving and with Southeast Asia.
---
Do you have a favorite travel memory or favorite place?
In Sumba, meeting friends traveling in a boat and arriving to amazing wild places and very authentic. But I have a lot of good memories of travel with friends and family where it is all about laughing. For me places are almost empty spaces, it is all about the company.
Why does Indonesia and the Gilis inspire you?
I'm a big fan of Indonesia, I think it is the wild, how real it is. Maybe not the most popular places but there are so many islands. I like the nature and I love the the sea… I don't really know what it is but it just feels good living here.
You're involved in a lot of activities! Which do you enjoy teaching the most?
My favorite to do is trapeze (even if it is the one that I'm not practicing at the moment). I like to teach Fly High yoga because for a lot of people it's the first time going up side down and I like bringing out the inner child… I like to teach Ashtanga, I like the energy surrounding us when everyone is doing the routine.
And what kind of workshops will you be doing at the upcoming retreat?
I will be doing classes focusing on different parts of the body everyday and working with balance as well to prepare the body for the SUP yoga. During morning or afternoon we will be doing yang (active) practice and yin yoga in the evening. The idea is to awaken, or make a stronger body and breath awareness, to have more benefits during yoga or any other practice.
What is your favorite type of yoga?
I like Ashtanga a lot, every time I was doing it I was understanding something better and learning something new. You start the routine and It feel like you go on trip inside yourself and then you arrived to Savasana. At the moment I'm not doing Ashtanga that much because my daily life became very active and I feel more doing yin to go into myself in a different way.
And what do you love about teaching yoga?
Different people, being in the class and working with different kinds of minds and bodies that you have to lead to bring them into the same practice… but everyone will feel it in their own way.
How has yoga benefited other areas of your life- including the other activities you do?
Recently I start to practice a new yoga routine in the morning to focus on legs and balance and I realized my surfing skills are improving too. Another aspect is the mind, the way to be focused on what I'm doing, be in the present moment. I will say my mind setting is 100% to my breathing to stay present.
How do you re-coup after a strenuous practice from any activity?
Rest and I feel eat fruit, always the best for me, I guess because I live in tropical weather. But sometimes because of the practice I feel more energized. What I do now, instead of thinking in re-coup, is to prepare my self before intense activities and it works better. If I have a full day under the sun it doesn't matter how much water I drink and how well I eat after I will still feel weak. If I eat a rich breakfast and drink well before, I feel so much better when the day end.
What is the hardest thing you've had to learn in your practice?
My mind, be in the practice and not in the future. Especially in Savasana.
What are you trying to learn now?
Improve my surf skills and take the things as they are.
Do you have an inspirational message for someone just getting started, or struggling with their yoga practice?
In my experience I struggle a lot with yoga at the begining but I continue, even when I was thinking I was not enjoying it at all, because I was feeling I was not understanding, that's why I was not enjoying it. So if you struggle but you feel something good is there, be curious. There are many different kinds of yoga, ways to practice, and teachers. Start with something challenging enough, not the hardest things. When doing yoga don't worry about how it looks just focus on how it feels and be patient.

Something helpful for me was setting intention before the class to enjoy more the postures I liked the least. For example I didn't like warriors at the beginning, so my intention was: "Today I have to feel good the warrior, not try to sink as much as I can to look amazing, just to feel where is my warrior" or "Today my main focus will be the breath, I will perform the routine in a way that i can be all the time focusing on my breath, doing it slow".
---
If Pilu inspires you, join us for Gentiane Retreat in March from the 17th to the 26th. You can also follow our instagram to see more amazing photos of her and her practice- and our retreats!