Slow Food & Yoga Festival
In October 2019, the second edition of Slow Food & Yoga Festival were hosted on Gili Air. 4 days of yoga, acro yoga, nutrition workshops, food events, sustainability workshops and lifestyle coaching – it was truly magical!
It was Thursday October 17th, and the beautiful island of Gili Air was just waking up. The sun was slowly rising behind the majestic Mount Rinjani, painting the sky in 50 shades of red. But this morning was different from all the other peaceful mornings on Gili Air. On the East coast of Gili Air, facing the stunning sunrise, Sharni Quinn was facilitating the opening ceremony of Slow Food & Yoga Festival. Yogis, food lovers and adventure seekers had gathered to acknowledge the beginning of 4 magical days in Gili Air! 
And it was for sure magical. Each day, beginning from 6.00am in the morning, the program was full of inspiring, active and fun workshops. From yoga classes to body movement teachings – and from life coaching to intimacy workshops; Slow Food & Yoga Festival had something for everyone!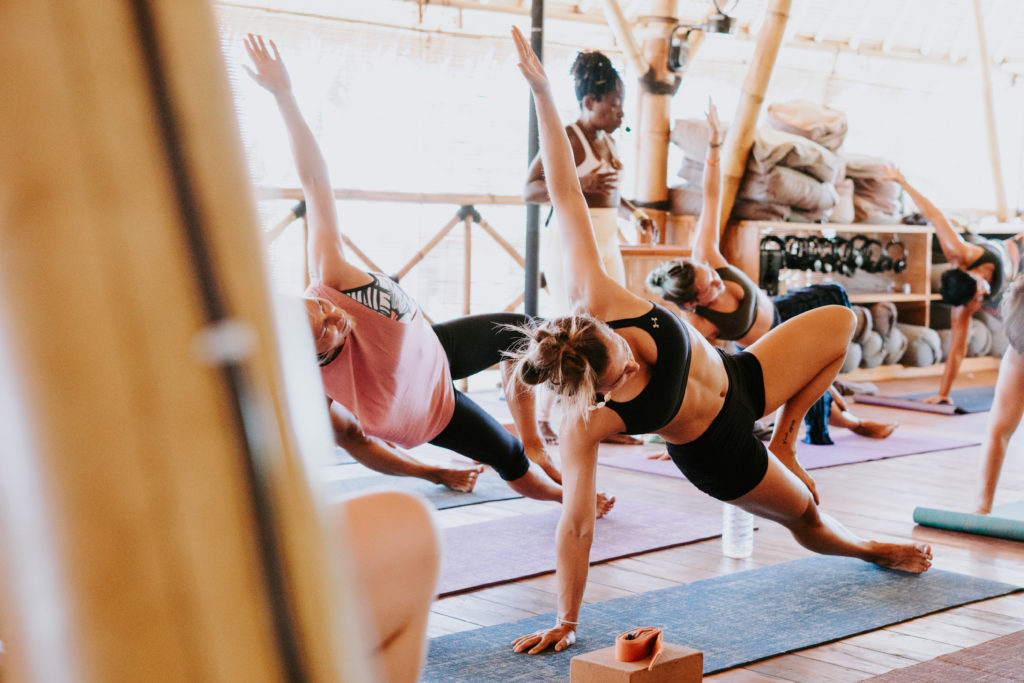 A Festival Community
So many amazing yoga instructors took out time to host classes for charity. It was amazing that so many talented people volunteered their time to take the participants of Slow Food & Yoga Festival on a magical journey. Every day, the program offered Yin Yoga, Vinyasa Flow, Acro Yoga; beginner and intermediate, and many other beautiful teachings. From Ecstatic Dance & Cacao Ceremony with Levi Banner to Reggae Flow on the beach with Nadine McNeil – it couldn't have been any better!
What was truly amazing about the festival was the community that was created between the participants and teachers. Hosting an event like Slow Food & Yoga Festival on such a tiny paradise island is truly amazing, as you can't enter the streets of Gili Air without bumping into fellow festival participants. At each class you could meet well-known faces, and at lunch time groups of visitors went out together to explore the delicious food of Gili Air. It was like a small festival-family was created; all enjoying the days together.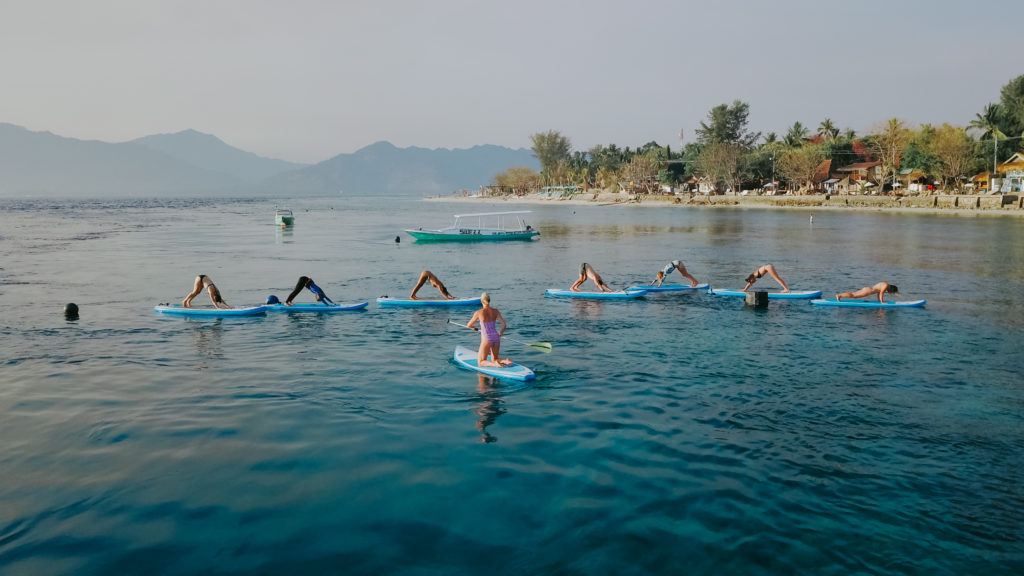 A Food Journey
One of the aims of Slow Food & Yoga Festival were to take visitors on a food journey around Gili Air. The wish was to provide participants with the possibility of visiting some of the best local warungs on the island, to give them an understanding of the local Indonesian kitchen.
Chef Darma from Warung Alam Damai told visitors about the Story of Sambal and made a demo & tasting of the delicious and spicy chili paste. Chef Hero from Warung Sunny invited participants to come hear about the local medicinal herbs harvested on the island. And Chef Arif Springs hosted workshops on raw foodism and how to make jamu with his impressive knowledge and inspiring passion for the herbs and ingredients he's working with.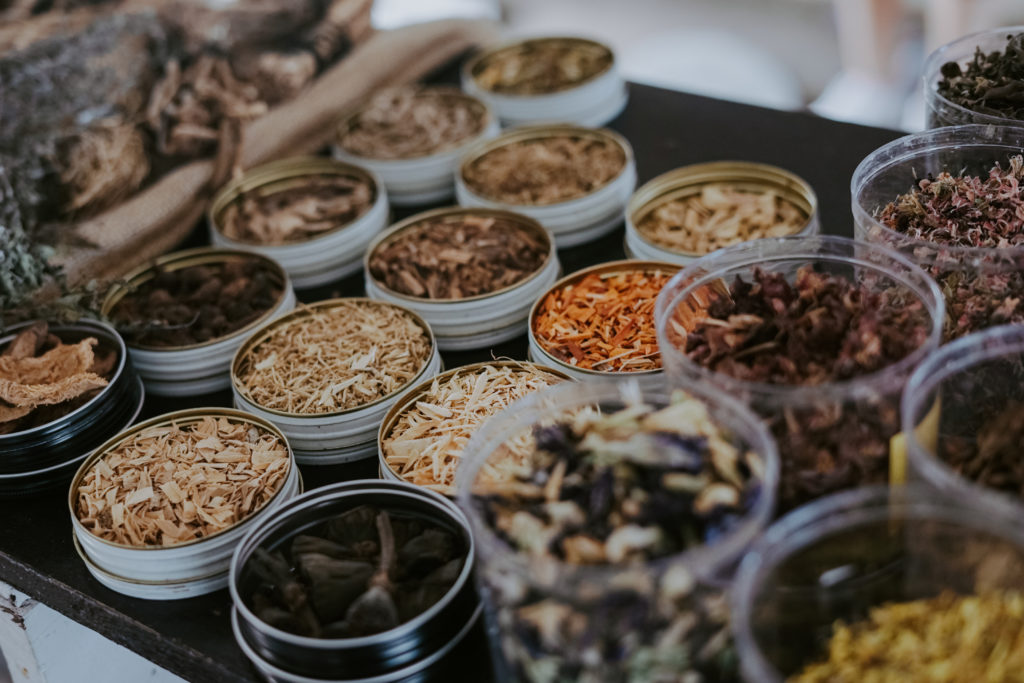 It was very inspiring that so many talented and inspirational Chefs were on board for the second edition of Slow Food & Yoga Festival. So many local places opened their doors for our festival participants to share their knowledge. Chef Rosie from Nad Brahma did an interesting talk about Ayurveda, and Raja Bar & Salim Cottage hosted a Food Journey with the amazing Chef Arif Springs. The Mexican Kitchen were a huge part of creating a magical food journey and opened their doors to jamu making, raw foodism, and kombucha making. It was truly magical to be a part of!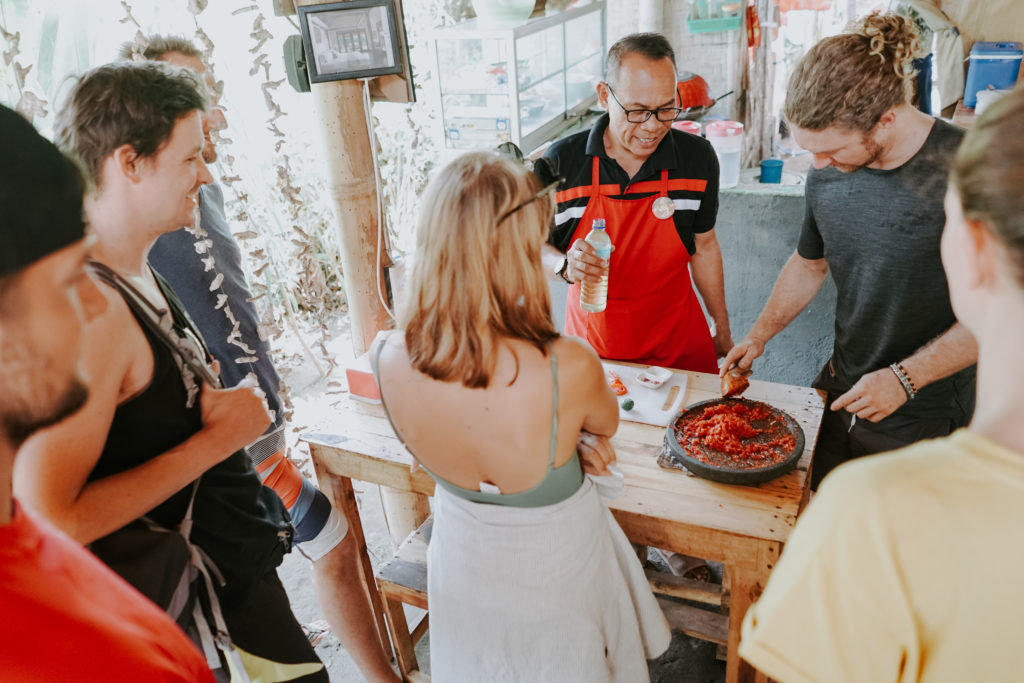 A Zero Waste Gili Air
Not only yoga and food were on the program for Slow Food & Yoga Festival. Sustainability and responsible tourism were main topics for the event, and many inspirational workshops took place during the days of Slow Food & Yoga Festival.
Silvija – Founder of Zero Waste Bali – hosted a talk about simple swaps and how to make your own scrub, and other workshops with focus on recycling, upcycling, and zero waste were hosted by facilitators wishing to share their knowledge.
A sunset market took place at Camilla Beach every night, where small shops were set up selling delicious, organic and sustainable products. Here, you could meet Saifana Organic Farm, Gili Shark Conservation, Pituq Community Foundation, DJAMOEKOE and other amazing stalls.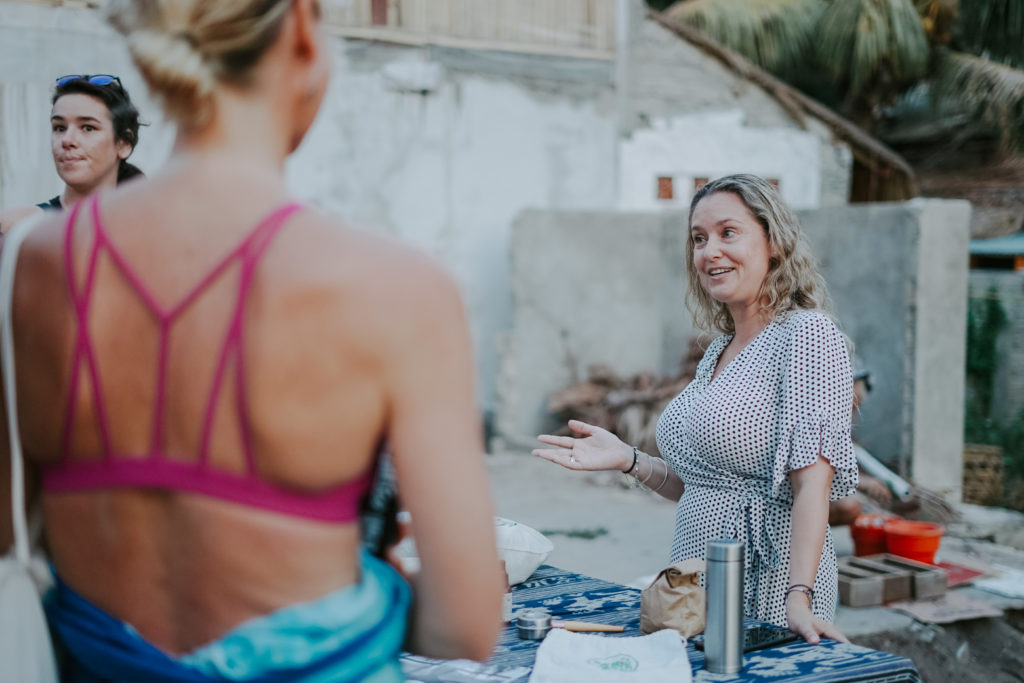 All proceeds from Slow Food and Yoga Festival are going to Soraya Foundation. We want to thank everyone for participating in our event and for helping bringing our island forward. Your ticket purchase will allow our upcoming projects to continue running – including helping the Gili Eco Tribe to work alongside Gili Cares to resolve recycling and rubbish issues, as well as supporting educational initiatives within the local community of Gili Air. 
Soraya Foundation is working towards the common dream of Gili Air: 
A Zero Waste Island. By supporting Slow Food & Yoga Festival, you will help us towards:
Clean environment
Plastic free Gili
Sustainable tourism
Preserve the reef and clean the beaches
Make the school green
No more single use plastic